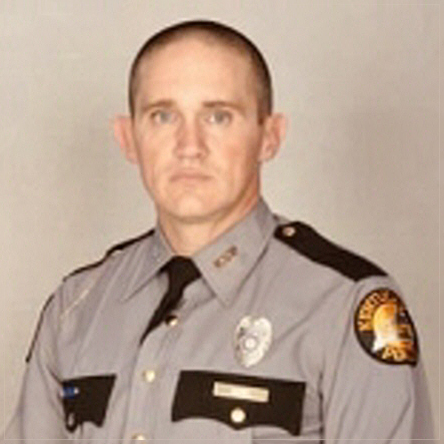 On May 16, 2022, Jody Wayne Cash, Chief Deputy of the Calloway County Sheriff's Office in Murray, Kentucky, and a Drug Enforcement Administration task force officer in Paducah, Kentucky, was fatally shot in front of the Marshall County Sheriff's Office while interviewing a suspect. During the interview, the suspect requested to smoke a cigarette. Task Force Officer Cash and a colleague accommodated the request and escorted him outside. While smoking, the suspect produced a concealed handgun and fired it toward Task Force Officer Cash, fatally striking him. Law enforcement returned fire, killing the suspect.
Born in Princeton, Kentucky, Task Force Officer Cash was a 22-year law enforcement veteran. He served two years with the Caldwell County Sheriff's Office as a deputy, six years with the Calloway County Sheriff's Office, and eight with the Kentucky State Police, from which he retired as a sergeant in 2018. Task Force Officer Cash graduated from the Kentucky State Police Academy in 2011 as valedictorian of his class. He also served six years at the Murray State University Police Department, achieving the rank of assistant chief.
Task Force Officer Cash was survived by his parents, Harold Wayne and Teresa; his wife, Michelle; his son, Jackson; his stepdaughter, Madyson Martin; his sister and her husband, Kelly Byrd and BJ; his grandmother, Hilda; and many family members and friends who will always remember him as a loving, selfless, witty, and adventurous man.